Welcome to the NEW AND IMPROVED PICNIC!!! (DO
YOU LIKE THE NEW LOOK?! I MEAN I LIKE IT BUT I THINK I'M BIASED! As always comment your opinions!) It was made by the lovely Kelly (Diva Booknerd) SO tell her how much you LOVE it, because I am so happy with it and she put a lot of effort into it and I am so grateful!) Anyway, Today I am posting a Non-Spoiler Review of The Yearbook Committee by Sarah Ayoub! Hope you enjoy!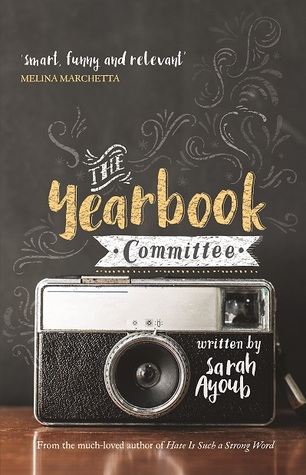 The Yearbook Committee by Sarah Ayoub
Published by Harper Collins Australia
Contemporary YA
Five teenagers. Five lives. One final year.
The school captain: Ryan has it all ... or at least he did, until an accident snatched his dreams away. How will he rebuild his life and what does the future hold for him now?
The newcomer: Charlie's just moved interstate and she's determined not to fit in. She's just biding her time until Year 12 is over and she can head back to her real life and her real friends ...
The loner: At school, nobody really notices Matty. But at home, Matty is everything. He's been single-handedly holding things together since his mum's breakdown, and he's never felt so alone.
The popular girl: Well, the popular girl's best friend ... cool by association. Tammi's always bowed to peer pressure, but when the expectations become too much to handle, will she finally stand up for herself?
The politician's daughter: Gillian's dad is one of the most recognisable people in the state and she's learning the hard way that life in the spotlight comes at a very heavy price.
Five unlikely teammates thrust together against their will. Can they find a way to make their final year a memorable one or will their differences tear their world apart?
Thankyou SO much to Harper Collins for sending me an ARC for review!
PLEASE NOTE: THIS BOOK WAS SENT TO ME AS AN ARC BY HARPER COLLINS AUSTRALIA THIS DOES NOT EFFECT MY OPINION ON THIS BOOK!
****4.5 out of 5 Stars****
This book was really good! Sarah should be really proud! The plot was really interesting. I loved how this book was character based! Some of you might not know that character based plots are my favourite books to read. I find them 100% more interesting than plot based stories. This book is shown from five different point of views, which I thoroughly enjoyed, but more about point of views when I get into characters. I really enjoyed reading the scripts of what happened in each meeting and I was really happy that these were included in the novel. The ending of this book absoloutley hit me with feels and was SO unexpected! I don't feel ready to discuss it plus this is non-spoiler but maybe if you guys want one day I will write a discussion.
The characters in this book were quite literally superb! Hearing each main characters thoughts, opinions and back stories on themselves, their situations and one another was so great and added to my enjoyment! I would definitely say that Sarah based each character on a stereotype, and as much as this might sound as though it was a novel based around high school drama's it really wasn't. I will admit to thinking this book may come across too cliche for my liking but it was pretty much the opposite. Each character voiced their opinions and the novel took on a really quirky voice. I especially enjoyed hearing from some of the more popular kids. More specifically Tammi. It was so interesting to hear from Tammi who's stereotype was 'The popular girls best friend.' Her opinions were not what expected and often fought against what her best friend was doing. She disliked what her bff was doing yet felt powerless and like she didn't have a voice. Seeing all of the characters help one another out was absoloutley incredible. I really like Charlie, she was probably my favourite. Smooth and sarcastic Charlie was hilarious and someone who could be counted on. The conversations in this book were realistic and they didn't look like the author had stuffed words into their mouths, it was all very relatable.
+The food references in this book were perfect! It may or may not have included Haigh's Chocolate. (I was really happy to finally see some good ol' Aussie chocolate instead of American!)
+The Australian setting is really relatable for Aussie's. It's set in Sydney and uses Aussie references which was great!
+ Sarah's writing went really well with the story and the way she could use her writing in different ways for each of the five characters p.o.v was great!
+As I have said before, I love character based stories and Sarah nailed it on this one!