Did you like that title?
Well it took me forever to get it right so I really hope you did.

(Also I have no idea why I put the writing over the title page of the book. I had this photo of the book so I just went with it I guess)
Oh and by the way this review is just going to be Hamilton gifs and puns

non stop

so beware.

(If you got the pun I am very impressed! You, my friend, are obviously a Hamilton lover as well)
If you don't know what Hamilton is, it is an American rap musical about one of the Founding Father's of America, Alexander Hamilton. All of music and lyrics are written by Lin-Manuel Miranda.
This musical is massive in America
but unfortunatley isn't as well known in Australia! I absoloutley love this musical in case you can't already tell & I'd love for some more Aussie's to jump on the Hamilton bandwagon with me!
I'm not joking when I say I this is one of my favourite musicals
(I mean I even bought a

Hamilton necklace!

)
So thanks to Hachette Australia, I was sent a copy of

Hamilton: The Revolution

which is a massive, harcover, embossed book written by Lin-Manuel Miranda himself & Jeremy McCarter! Side note: Lin is one of the nicest people! He is so humble and just so sweet and I really really want to meet him. Anyway back to business after this gif of Lin: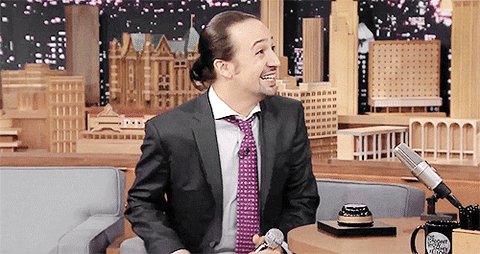 Hamilton: The Revolution by Lin Manuel Miranda & Jeremy McCarter
Published by Hachette Australia
Published in October 2016
Lin-Manuel Miranda's groundbreaking musical Hamilton is as revolutionary as its subject, the poor kid from the Caribbean who fought the British, defended the Constitution, and helped to found the United States. Fusing hip-hop, pop, R&B, and the best traditions of theater, this once-in-a-generation show broadens the sound of Broadway, reveals the storytelling power of rap, and claims our country's origins for a diverse new generation.
Thankyou SO much to Hachette Australia for sending me this book for review! However, this doesn't effect my opinion.
I loved this book!

It's like being inside the mind of one of my inspirations.

Knowing how Lin created a certain song and how ideas came in to his mind is just so inspiring.

I knew before this book that Lin is an absolute genius but seriously, reading over every single lyric in this book has made me even more in awe of Lin than I already was. I listen to at least one Hamilton song almost every day and the ability Lin has to story-tell and portray emotion in his songs is astounding. When I

read each song in this book, every single lyric, every rhyme

you realise how intelligent and talented a person would have to be to write a musical such as this one.
I really liked the behind the scenes
chats and chapters written with/by the actors
and reading about how they got their roles in the play
and how they relate to the person they portray.
What especially touched me was Chris Jackson's story (The man who plays George Washington in this musical)
but I want to leave his story for those who read this book.
Everyone that makes up the Hamilton cast is so wonderful
and I honestly just
love them all.
Tiny things that I had never noticed before were made a note of in this book and I just loved learning about all of the detail Lin put in to this musical.

Things like having the same actor play a fellow solider in the Act One and then in Act 2 have him be a politician on the opposing side and the actor says 'We fought with him'

I mean that is just something I wouldn't have noticed if not for this book!
One of my favourite parts to read in this book where

the lyrics to each of Hamilton's songs and Lin's notes next to them.

The lyrics were written over photos of the specific scene which it is sung in which looked very stylish on the page. In the margins, were typed up notes with numbers, so whenever you got to a word with a number there was a note in the margin from Lin. These could be anything from where the idea for a line came from, what the lyrics to a line use to be and why Lin changed it to what the line is now, to a story about where this song was written and how it came to be! I loved reading these little notes, hence why they were one of my favourite parts! It's something about learning more about the meaning of a certain song, and getting to know the person who created it.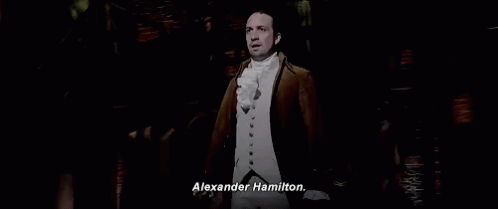 Of course reading about those who work tirelessly behind the scenes is also a massive part of this book. The amount of people that are needed to make a play like this is unbelievable and the people who work in costuming, sound, lighting, choreography & everything else I've missed need to be commended for their brilliant efforts.
The stories in this book are so
heartfelt
I felt an absolute myraid of different emotions whilst reading. Some stories were absoloutley
hilarious
whilst others were
so sad
that I almost cried.
A common theme that can be found throughout this book, is hope.
An emotion that was so vital in the making of this play.
In this book, Lin also discusses the importance of
diversity and acceptance in modern America.
Which I think is something that is very important
no matter where you live.
Lin talks about casting people of colour
and the impact it's had on school students. He told stories of students who were absoloutley delighted that Lin had cast a Latin man
as George Washington.
Christopher also talks in this book about how seeing a Latin George Washington as a child would have changed everything for him. Diversity is something that is so important in our society,
and I absoloutley love how Hamilton is actively playing a role in helping diversity.
Bits & Bobs:
The embossed cover is absoloutley stunning! I really love the deckled pages as well

the whole book is really well presented

and I really like how photos of scenes from the live musical are incorporated in to this book. Only thing would be for bigger text, but that's it! Since it's a bigger book, I would've liked the type just to be a tad bigger.

A bit beside the point but the Hamilton Mixtape is coming out soon!

An album of singers like Alicia Keys, Usher and Sia all singing Hamilton songs!! I'm soooo excited for that aswell!
If you are a Hamilton fan, definitely read this book. If you aren't a Hamilton fan, read this book and hopefully you'll become a fellow Hamilton lover!
★★★★★
Have you heard of Hamilton before? Do you love this musical? Or have you not (and if you haven't HOW? Also will you start listening to the songs/read this book?)